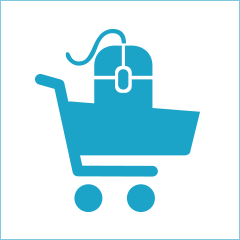 Click and Collect is the new shopping magic – easier, simpler and faster.
Welcome to the seamless transition from on-line to in-store shopping with Click and Collect. You can now upload and enjoy the many attractions of this handy new shopping tool that binds busy people and brick and mortar stores.
It's 8.15 on a rainy Monday. Busy day for Adam. It's his Heather's 29th birthday. Adam is on the early shuttle to downtown, slightly banged-up iPhone in hand.
A table for two at 'their' bistro is booked for tonight. But Adam still needs…stuff.
His workday is super-full, except for a quick lunch break. Two tough strategy meetings, presentations to prospective clients and then his semi-annual performance review. OUCH!
He needs to get the gift today. And get it right. He knows Heather has her eye on a red handbag that's on sale at the new accessories store, a short walk from the office.
So while the shuttle winds its way downtown, he places the order using the store's "Click and Collect" feature he downloaded over the weekend. A few quick clicks and he's done.
Great news. The bag is in stock and it's still 15% off.
Success! Order placed and confirmed, in seconds. The morning will be less stressful knowing that he can collect the handbag in a flash. No searching, no waiting, no fighting the crowd at the counter. Maybe he'll see if matching belts are on sale too….
LS Retail's new "Click and Collect" feature is a highlight of this year's modernization of LS Nav, the time-tested retail and hospitality IT solution."Click and Collect" provides a seamless transition from on-line to in-store shopping. It's already popular in the UK and is growing in use in the US.
The e-Commerce and the Mobile Loyalty App that are features of "Click and Collect" let customers create an order on a PC or mobile device, place orders online, select a convenient retail outlet and see if the store has the product in stock. They can then have it delivered or collect it at the store of their choosing, when they wish.
With this innovative shopping helper, there is…
less need for warehouse operations for the retailer;
more efficient and profitable use of store-floor staff;
less delivery cost as the customer collects the order at the store;
the customer visiting the store increases the possibility of additional shopping, maybe buying a related item.
Retailers can now pretty much guarantee getting customers the item they bought online, as soon as they can get to the store. It's as straightforward a process as a retailer could want: the staff at the store selected by the on-line/mobile customer receive the order, select the items from the store's inventory and prepare it for collection.
The customer is notified when the order is ready or if anything has changed.
Allison Corcoran, senior vice president of marketing for North American stores and online at 'Staples', described at the NRF's "Big Show" in New York last month how 'Staples' has effectively combined online and offline and how the two can work together by implementing kiosks and effective pick-up systems.
She offered a concrete example of how "Click and Collect" can transform the shopping model: a popular use of next-day in-store pick-ups has been for people who create business cards on the 'Staples' website and then get them in-store. This allows customers to make sure the order is right, avoiding delays and increasing satisfaction and repeat business.
The same can hold true for trying on clothes or shoes, for example. Nothing like getting the feel, color and fit right, the first time!
We invite you to see why a move to LS Retail-driven retail solutions makes so much sense.
Retailers operators can schedule one-on-one appointments by contacting us